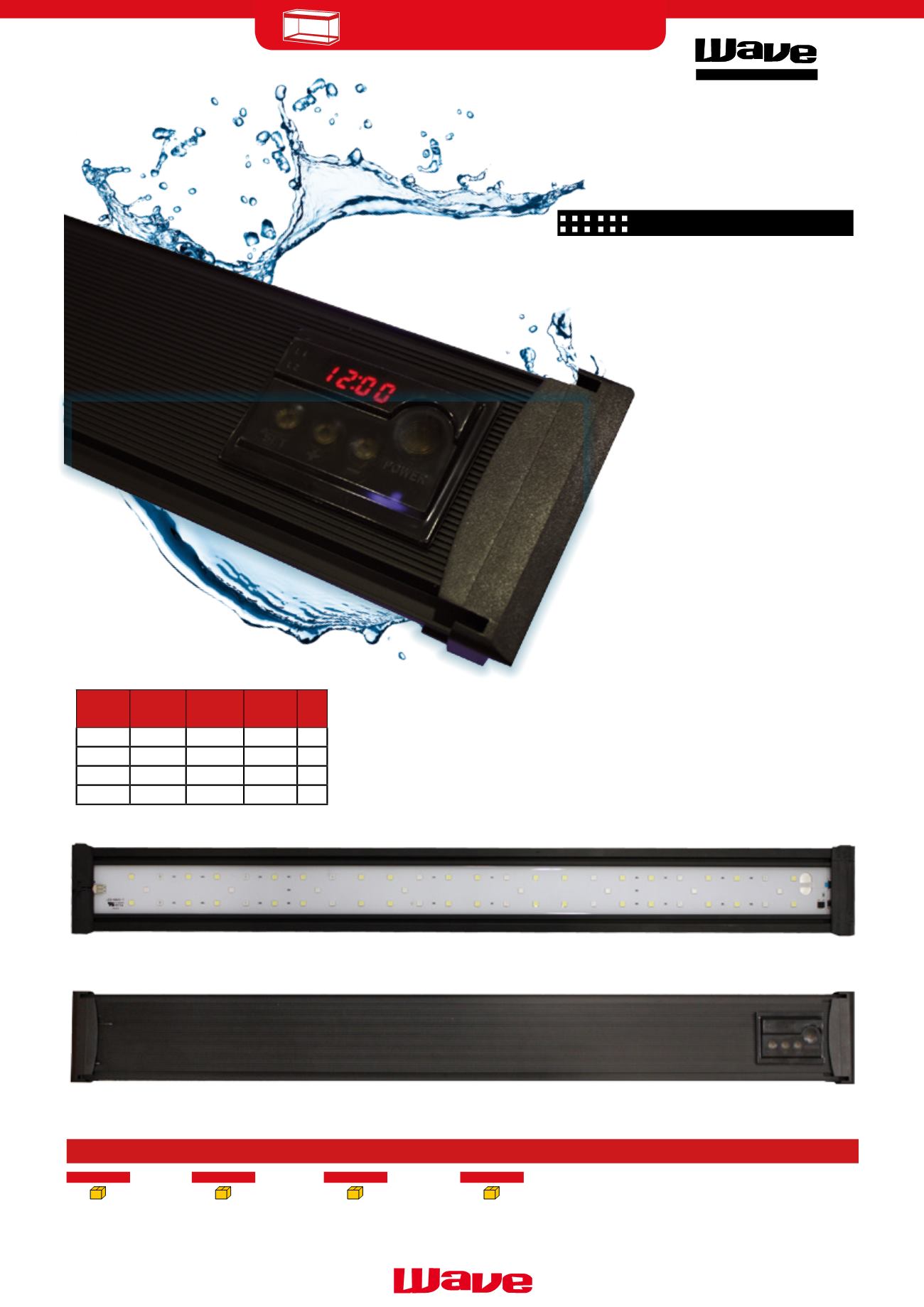 Design
led lighting bar
Impianto led ad alta intensità per
acquari Classic e Design. dotato
di timer che permette di control-
lare separatamente i LED diurni
(Bianchi + RGB) da quelli nottur-
ni (blu). La nuova generazione di
led permette uno spettro ottima-
le per la crescita di pesci e piante.
Pflanzen hohe Intensität führten
Aquarium Klassik und Design. mit
einer Zeitschaltuhr, die Sie separat
steuern die LED-Tag (Bianchi +
RGB) als Nacht (blau) ermöglicht.
Die neue Generation der LEDs
ermöglicht ein Spektrum optimal
für das Wachstum der Fische und
Pflanzen.
High intensity led Lamp for aqua-
riumClassic and Design. equipped
with a timer that allows you to se-
parately control the LED daytime
(white + RGB) than night (blue).
The new generation of LEDs al-
lows a spectrum optimal for the
growth of fish and plants.
SIZES WHITE
0.5W/PCS
RGB
1.5W/PCS
BLUE
0.5W/
PCS
W
55 cm 24
8
8
28
80 cm 32
16
8
44
100 cm 36
20
12
54
120 cm 48
24
12
66
Classic
LICHT BAR LED + TIMER - Lighting bar led + timer
BARRA LED + TIMER
(cm)
1
1
A9013613
8023222136137
55
1
1
A9013726
8023222137264
80
1
1
A9013727
8023222137271
100
1
1
A9013728
8023222137288
120
AQUARIEN & SCHRÄNKE - AQUARIUMS & CABINETS
ACQUARI & SUPPORTI
9