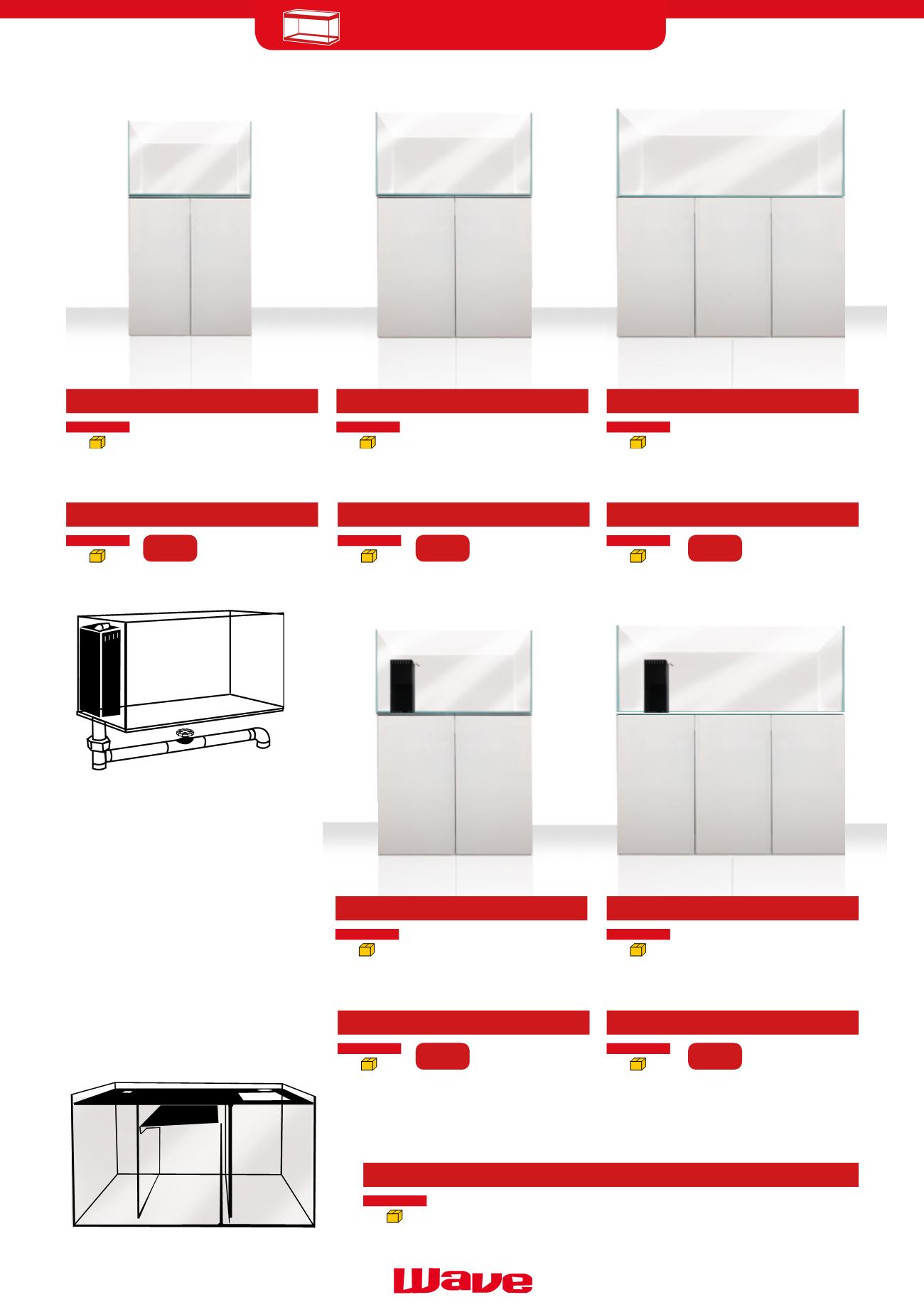 • versione con tracimazione, corredata di tubi,
pronta per essere connessa ad una sump. Il
rubinetto permette l'allagamento della griglia
di scarico, nello scomparto di tracimazione, al
fine di eliminare il gorgoglio.
• Überlauf-Version, mit Anschlussschläu-
chen, bereit, mit einem Sumpf zu passen. Der
Abgriff kann die Überflutung des Überlaufs
Gitter, in die Überlaufkammer, um die Gurgeln
beseitigen.
• Overflow version, with connection hoses,
ready to be fit with a sump. The tap allows the
flooding of the overflow grid, into the over-
flow compartment, in order to eliminate the
gurgling.
• Vasca tecnica in vetro con coperchio in plastica, idonea per la wave station tank da 90 e 120 (versione Overflow)
• Glaswanne mit Kunststoffabdeckung, geeignet für 90 und 120 Wellensender Tank (Overflow Version)
• Glass Sump with plastic cover, suitable for 90 and 120 wave station tank (Overflow Version)
60x38x38 cm - Ca 90 L
18 cm 25 cm 20 cm
WAVE STATION TANK 60
(cm)
WAVE STATION TANK 90 OVERFLOW
(cm)
WAVE STATION GLASS SUMP
(cm)
WAVE STATION TANK 120 OVERFLOW
(cm)
SUPPORTO STATION TANK 60
(cm)
SUPPORTO STATION TANK 90
(cm)
SUPPORTO STATION TANK 90
(cm)
SUPPORTO STATION TANK 120
(cm)
SUPPORTO STATION TANK 120
(cm)
WAVE STATION TANK 90
(cm)
WAVE STATION TANK 120
(cm)
1
1
A2001772
8023222137721
60x40x40
1
1
A2001640
8023222126404
90x45x45
1
1
A6076758
8023222127586
25x25x30
1
1
A2001774
8023222137745
90x45x45
1
1
A6006768
8023222107687
60x40x80
1
1
A6006769
8023222107694
90x45x80
1
1
A6006769
8023222107694
90x45x80
1
1
A6006770
8023222107700
120x50x80
1
1
A6006770
8023222107700
120x50x80
1
1
A2001639
8023222126398
90x45x45
1
1
A2001773
8023222137738
120x50x50
ca. 85 L
Glass 8mm
ca. 165 L
Glass 10mm
ca. 165 L
Glass 10mm
ca. 270 L
Glass 12mm
ca. 270 L
Glass 12mm
SCHRANK - Cabinet
SCHRANK - Cabinet
SCHRANK - Cabinet
SCHRANK - Cabinet
SCHRANK - Cabinet
2012
EDITION
2012
EDITION
2012
EDITION
2012
EDITION
2012
EDITION
AQUARIEN & SCHRÄNKE - AQUARIUMS & CABINETS
ACQUARI & SUPPORTI
13