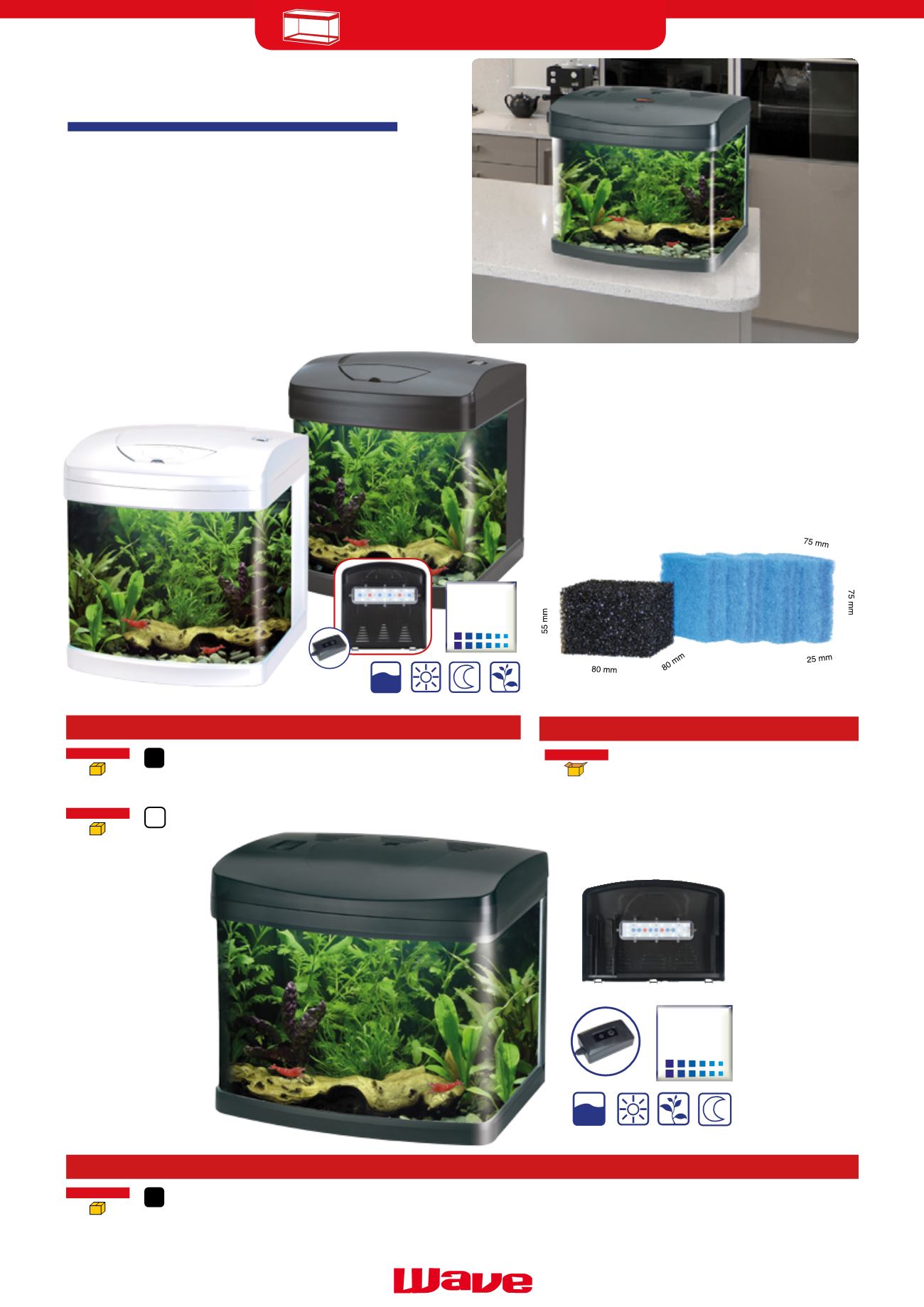 NERO
Black
Xcube ha il vetro frontale curvato e senza spigoli per una visione piacevole del
mondo acquatico. Dotato di un impianto d'illuminazione LED, filtro biologico a
scomparti (materiali filtranti inclusi), pompa e predisposizione per il riscaldatore
(incluso solo nel 40).
XCube mit einer aus einem Stück gefertigten, gebogenen Frontscheibe ermöglicht
einen ungestörten Blick auf die Unterwasserwelt im Aquarium. Ebenfalls im Lie-
ferumfang LED enthalten ist ein Mehrkammerbiofilter inklusive Filtermaterial und
einer Kammer zur Installation eines Regelheizers. Ein Regelheizer ist im Liefe-
rumfang nur in der 40l Version enthalten.
Xcube is in a single piece with curved front glass, without edges, creating an
enjoyable vision of the aquatic world. Xcube has a standard equipment of LED
lamp, a biological filter including filtering materials and a re-circulation pump.
It has also a heater compartment but heater is included only in the 40 l version.
White 0.5W
x 10 led
BlueMoon
x 4 led
Red 0.5W
x 2 led
Nano Acqua r i o • Nano Aqua r i um
XCUBE
LED
FULL
XCUBE 26 LED
(cm)
1
1
A2001281
8023222152816
31X32X37
1
1
A2001283
8023222152830
31X32X37
BIANCO
Withe
L
26 L
NERO
Black
XCUBE 40 LED
(cm)
1
1
A2001282
8023222152823
45,5X32,5X37
XCUBE 26 - FILTER PADS 5 SPUGNE
1
48
A6002679
8023222066793
5 pz.
Cuscinetti pretagliati ideali per essere alloggiati all'interno del filtro
di Xcube 26. Per l'utilizzo in altri acquari possono essere rifilati e
adattati.
Filterschwämme für den Xcube 26, durch Zuschnitt ebenfalls
anpassbar für andere Filtersysteme. Enthält einen schwarzen
Filterschwamm mittlerer Porengröße und vier feine Schwämme zum
Vorfiltern.
Filter Pads pre-cut and ideal for housing within the Xcube 26, may be
trimmed and adapted for use in other acquaria.
XCUBE 26 FILTER PADS FILTERSCHWAMM
XCUBE 26 Filter pad sponge
White 0.5W
x 14 led
BlueMoon
x 6 led
Red 0.5W
x 2 led
LED
FULL
L
40 L
AQUARIEN & SCHRÄNKE - AQUARIUMS & CABINETS
ACQUARI & SUPPORTI
19