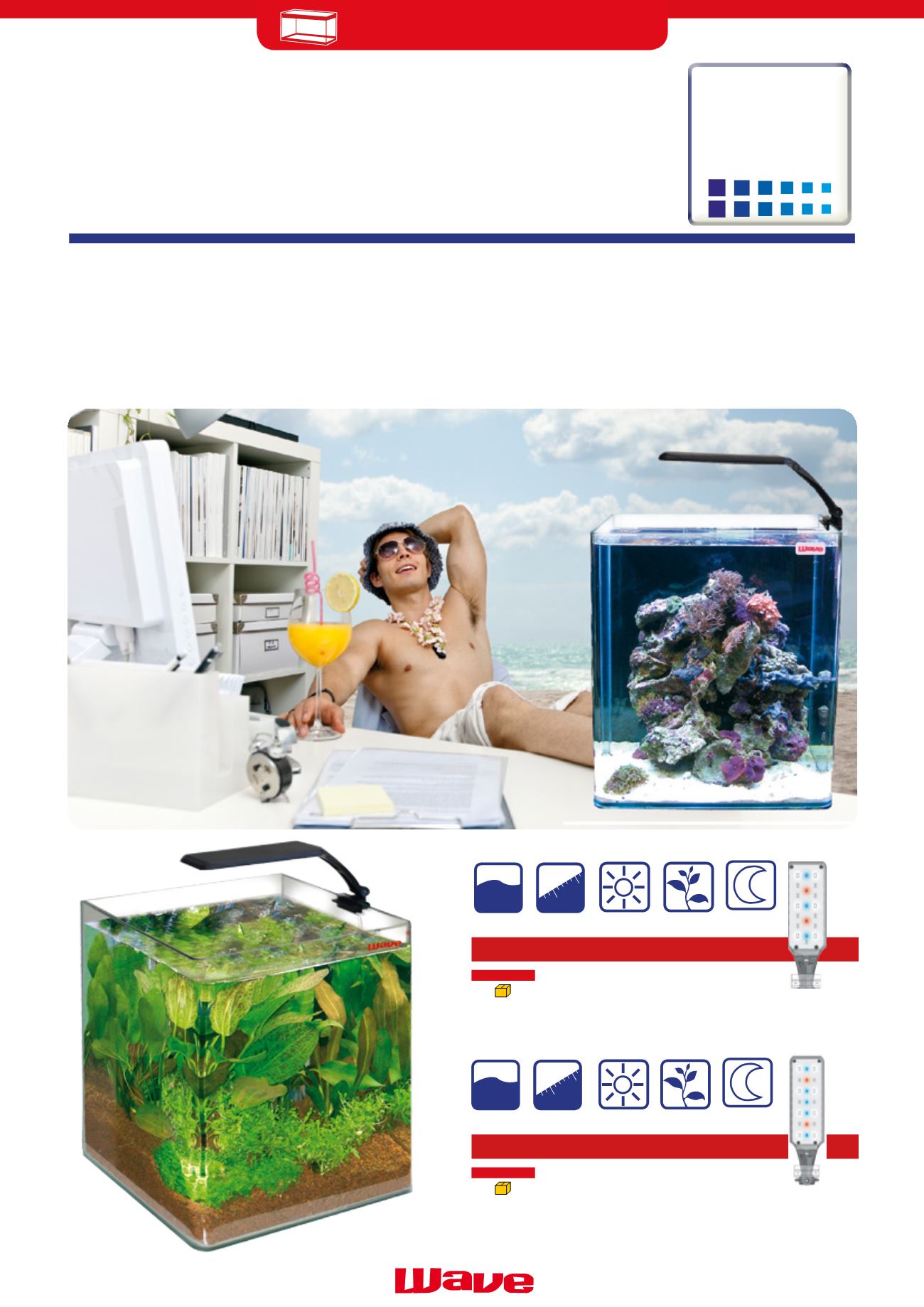 Orion 4.2W
Orion 5.2W
Nano Acqua r i o • Nano Aqua r i um
Wave Box
ORION
cm
25x25x30
L
16,5 L
White 0.5W
x 6 led
Red 0.5W
x 2 led
BlueMoon
x 3 led
cm
30x30x35
L
28 L
White 0.5W
x 8 led
Red 0.5W
x 2 led
BlueMoon
x 5 led
Wave Box ha il vetro frontale curvato e senza spigoli per una visione piacevole del mondo acquatico. Ottimo per ricreare un piccolo angolo di natura in casa! Consumi ridotti e massima autonomia per
godersi in relax l'affascinante mondo acquatico. Grazie al suo elegante design è perfetto per arredare una parte della vostra casa o del vostro ufficio. Ideale per ospitare gamberetti, granchi, lumache
ed invertebrati.
Das Glas der Frontscheibe vom Wave Box ist aus einem Sück gebogen und weist damit keine Ecken auf. Daraus ergibt sich ein wunderbarer und interessanter Blick auf die Unterwasserwelt. Ideal
geeignet, um sich auf elegante Art ein Stück Natur ins Haus zu holen!Geringer Verbrauch und maximale Autonomie lassen Sie die faszinierende Wasserwelt in Ruhe genießen, das elegante Design
vervollständigt die Einrichtung Ihres Hauses oder Ihres Büros auf ideale Weise. Ideal geeignet für die Pflege von Garnelen, Krabben, Schnecken und Wirbellosen.
Wave Box has a single piece, curved front glass, with no joins creating an un-obscured vision into the aquatic world. Through its compact design the Wave Box cleverly disguises all the necessary
equipment required for a professional aquarium. With reduced power consumption and increased biological filter, maximum enjoyment can be observed. With its elegant design it is ideal to furnish in
the modern office or home. Ideal to accomodate shrimps, crabs, snails and invertebrates.
LED
FULL
*Filpo Corner Twin Incluso / Filpo Corner Twin inklusive / Filpo Corner Twin Included
*Filpo Corner Twin Incluso / Filpo Corner Twin inklusive / Filpo Corner Twin Included
WAVE BOX CUBO ORION 25
(cm)
WAVE BOX CUBO ORION 30
(cm)
1
1
A2001274
8023222152748
25x25x30
1
1
A2001280
8023222152809
30x30x35
AQUARIEN & SCHRÄNKE - AQUARIUMS & CABINETS
ACQUARI & SUPPORTI
20