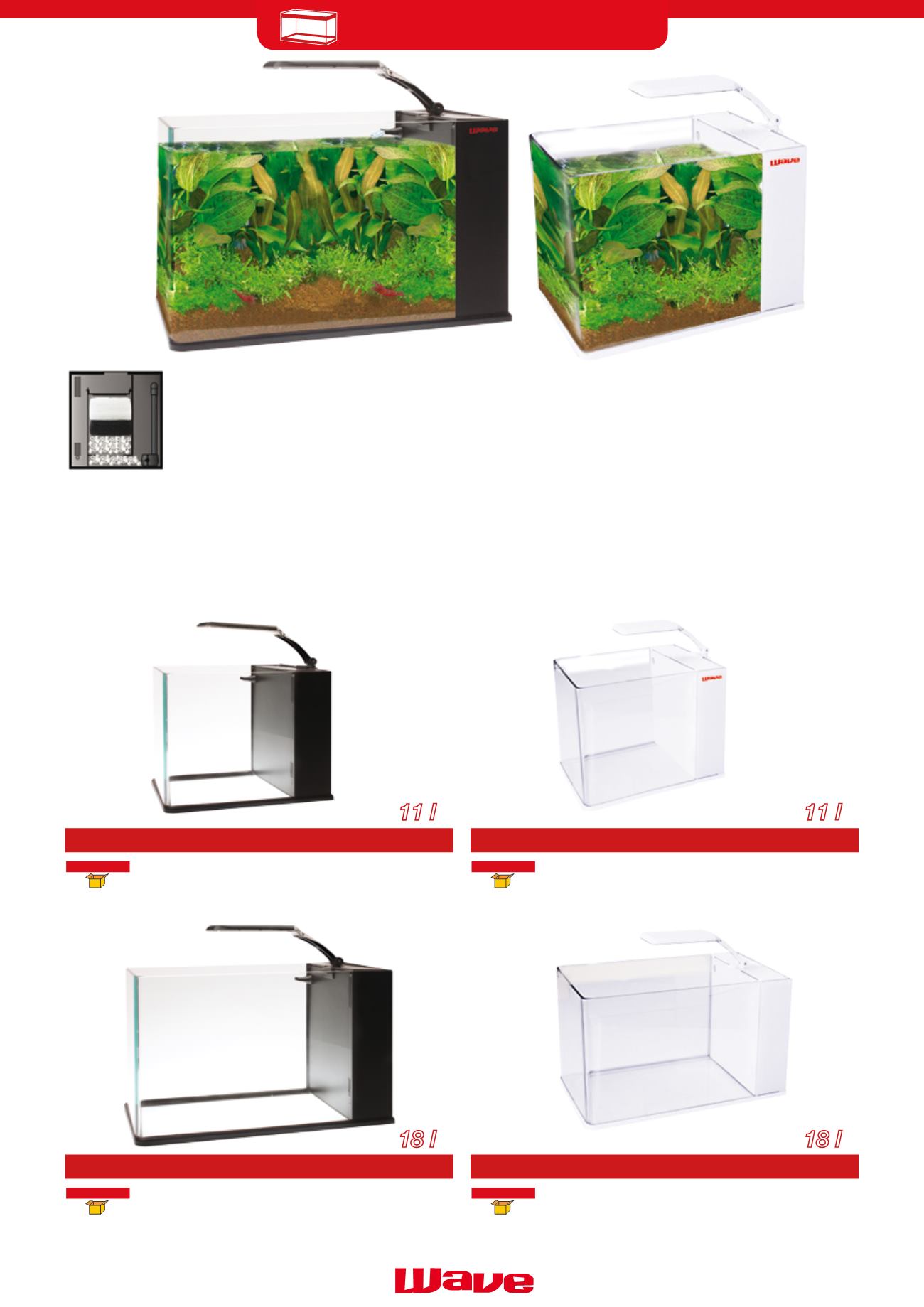 Wave Aqua Orion ha il vetro frontale curvato e senza spigoli per una visione piacevole del mondo
acquatico. Ottimo per ricreare un piccolo angolo di natura in casa! Consumi ridotti e massima
autonomia per godersi in relax l'affascinante mondo acquatico. Grazie al suo elegante design è
perfetto per arredare una parte della vostra casa o del vostro ufficio. Ideale per ospitare gamberetti,
granchi, lumache ed invertebrati.
Wave Aqua Orion mit einer aus einem Stück gefertigten Frontscheibe ermöglicht einen ungestörten
Blick auf die Unterwasserwelt im Aquarium. Die technische Komplettausstattung ist blickdicht
eingebaut und stört so nicht den Gesamteindruck der Unterwasserlandschaft. Dies macht Aqua
Orion zu einem eleganten Objekt zu Hause oder im Büro. Es ist ideal geeignet für die Pflege von
Garnelen, Krebsen, Krabben oder auch Schnecken.
Wave Aqua Orion has a single piece, curved front glass, with no joins creating an un-obscured
vision into the aquatic world. Through its compact design theWave Aqua Orion cleverly disguises all
the necessary equipment required for a professional aquarium. With reduced power consumption
and increased biological filter, maximum enjoyment can be observed. With its elegant design it
is ideal to furnish in the modern office or home. Ideal to accomodate shrimps, crabs, snails and
invertebrates.
WAVE AQUA ORION 25 - BLACK
(cm)
WAVE AQUA ORION 40 - BLACK
(cm)
WAVE AQUA ORION 40 - WHITE
(cm)
WAVE AQUA ORION 25 - WHITE
(cm)
1
6
A2001286
8023222112865
25x23x24
1
4
A2001287
8023222112872
40X23X24
1
4
A2001355
8023222123557
40X23X24
1
6
A2001353
8023222123533
25x23x24
Equipaggiamento comune in tutti i modelli: 1 Pompa
Stream 230 - Materiale filtrante - 1 Plafoniera Orion Led
Freshwater
Lieferumfang: 1 Pumpe Stream 230 - Filtermaterialien -
1 Lampe Orion LED Süßwasser
Features common to all models:
1 Pump Stream 230 -
Filtering materials - 1 Lamp Orion Led Freshwater
Orion LED 4,2W
Black
Orion LED 5,3 W
Black
Orion LED 4,2 W
White
Orion LED 5,3 W
White
1
2
3
4
1
Spugna (fibra fine) /
2
Spugna (porosità
media e grossa) /
3
Glax Ring /
4
Pompa
1
Filterschwamm (fein) /
2
Filterschwamm
(mittelgrob) /
3
Glax Ring Filtermaterial /
4
Pumpe
1
Sponge (fine) /
2
Sponge (middle
coarse) /
3
Glax Ring /
4
Pump
AQUARIEN & SCHRÄNKE - AQUARIUMS & CABINETS
ACQUARI & SUPPORTI
22