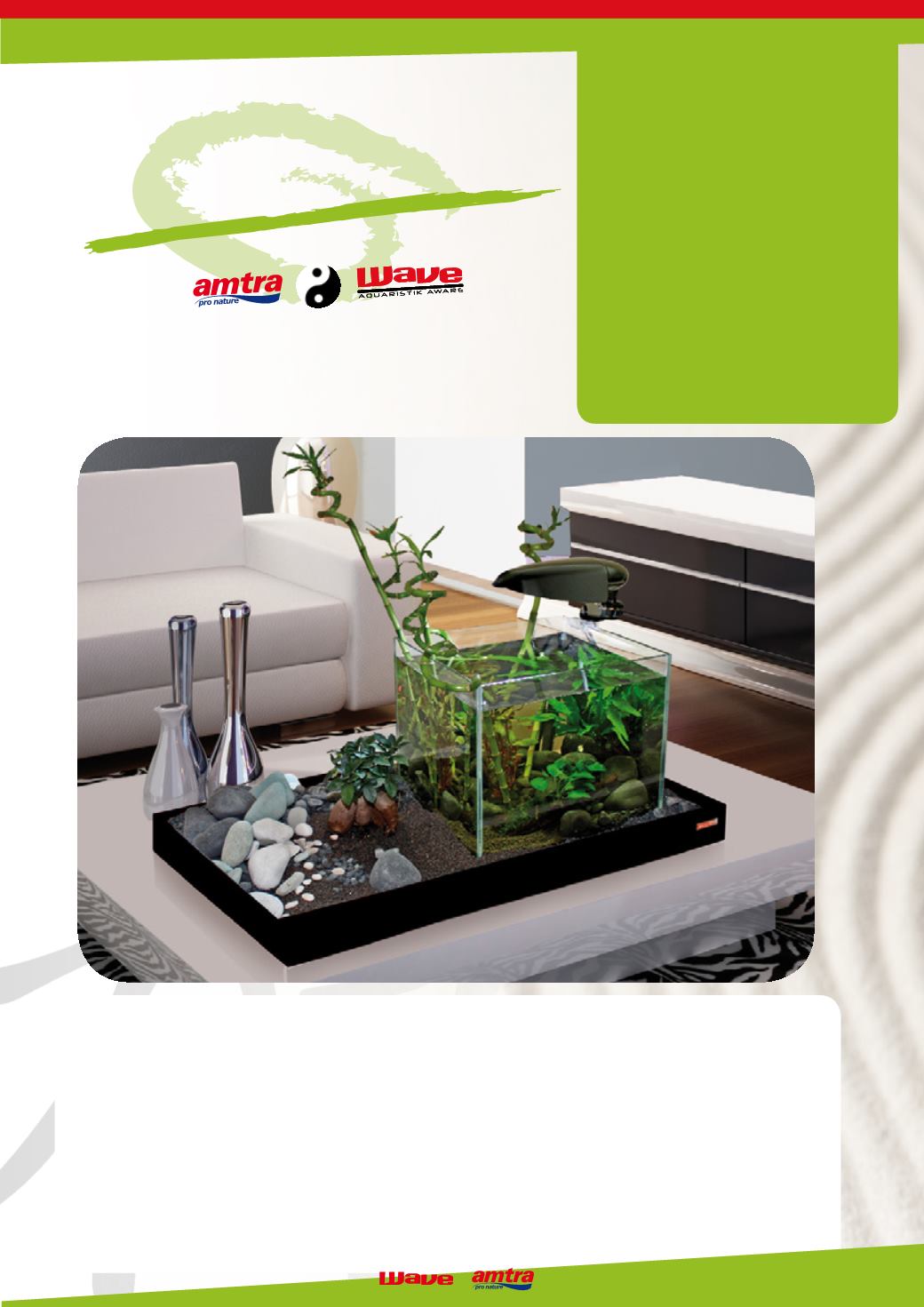 PERFETTA FUSIONE
FRA NATURA
E DESIGN.
BIETET DIE PERFEKTE
SYMBIOSE ZWISCHEN
NATUR UND DESIGN.
A PERFECT FUSION
BETWEEN NATURE
AND DESIGN.
Wave Zen Artist è la perfetta sintesi di natura e design. La natura trova espressione nelle ghiaie naturali amtra pro nature (rio negro, e
sambia). Le ghiaie, sapientemente mixate, vengono valorizzate dal design moderno del vassoio e dal vetro ultra chiaro dell'acquario,
che come eliminando i confini, permette un'unica visione dell'ambiente zen creato. L'equipaggiamento tecnico, prodotto da Wave,
garantisce un funzionamento perfetto.
Wave Zen-Artist ist die unwiderstehliche Mischung eines eleganten Aquariums auf einem Klavierlacktableau, die nicht nur
eingefleischte Aquarianer begeistert. Optisch erreicht man einen faszinierend-fließenden Übergang zwischen Wasser und Landteil.
Besonders attraktiv wirken die amtra Bodensubstrate sambia, rio negro oder outback als Wahl für den Bodengrund. Die technische
Ausstattung von Wave garantiert dabei eine optimale Funktion des Aquariums.
Wave Zen-Artist is a synthesis of Aquarium on a high glossy finish tray, a irresistible combination, not only for confirmed aquaristic-
enthusiasts. Visual you achieve a smooth transition between the water- and landpart, the specific clou, especially by the use of
selected gravel-compounds like amtra pro nature, rio negro, Mekong & sambia. Technical equipment, made by wave, assure a
optimal working.
Zen
I N S P I R E D B Y N A T U R E
Artist
26