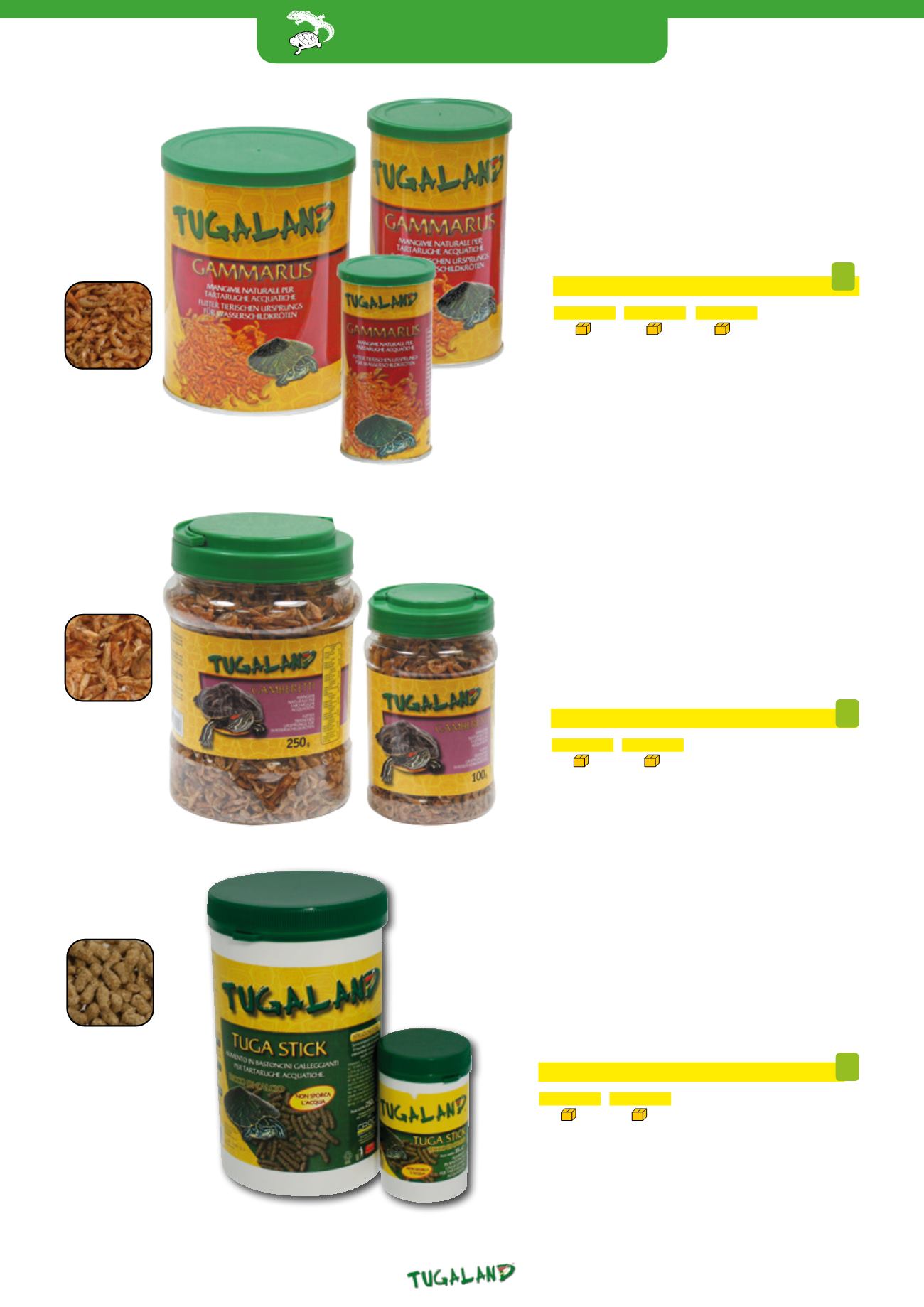 8023222090446
8023222038592
8023222090453
8023222038585
TUGALAND GAMBERETTI (gr)
TUGALAND STICK (gr)
12
12
12
6
12
528
12
180
T1027044
T1027859
T1027045
T1027858
100
35
250
250
Alimento per tartarughine a base di gamberetti (gammarus)
di altissima qualità. Mantiene inalterato il valore nutritivo e
l'aspetto del gamberetto in origine.
Schildkrötenfutter aus hochwertigen Gammarus
Turtle Food by high-quality shrimps (gammarus), that main-
tains to the nourishing value and the aspect of the original
shrimps.
Alimento per tartarughine a base di gamberetti (freshwater shrimps) di
altissima qualità. Mantiene inalterato il valore nutritivo e l'aspetto del
gamberetto in origine. Per tartarughe di taglia più grande è una vera
ghiottoneria.
Schildkrötenfutter aus Süßwassergarnelen. Futterbestandteile größer als
Gammarus-ideal für adulte Schildkröten Turtle Food by high-quality shrim-
ps (freshwater shrimps), that it maintains to the nourishing value and the
aspect of the original shrimps.
The size of this food is bigger than Gammarus, for this reason this food is
perfect for adult turtle.
È un alimento in bastoncini galleggianti. Non sporca l'acqua . Ideale per
tartarughe d'acqua. Ricco di calcio.
Tugaland ist eine spezielle Nahrung für Wasserschildkröten in schwimmen-
den Sticks, die nicht verschmutzt das Wasser. Es ist ideal für alle Größen
von Schildkröten.
Tugaland is a specific food for water turtles in floating sticks that doesn't
dirty the water. It's ideal for all size of turtles.
Art.
62
Art.
62
8023222090415 8023222090422 8023222090439
TUGALAND GAMMARUS (gr)
24
24
12
24
24
12
T1027041
T1027042
T1027043
26
60
110
Art.
62
REPTILIEN, AMPHIBIEN & WASSERSCHILDKRÖTEN
REPTILES, AMPHIBIANS & TORTOISES
RETTILI, ANFIBI & TARTARUGHE
298