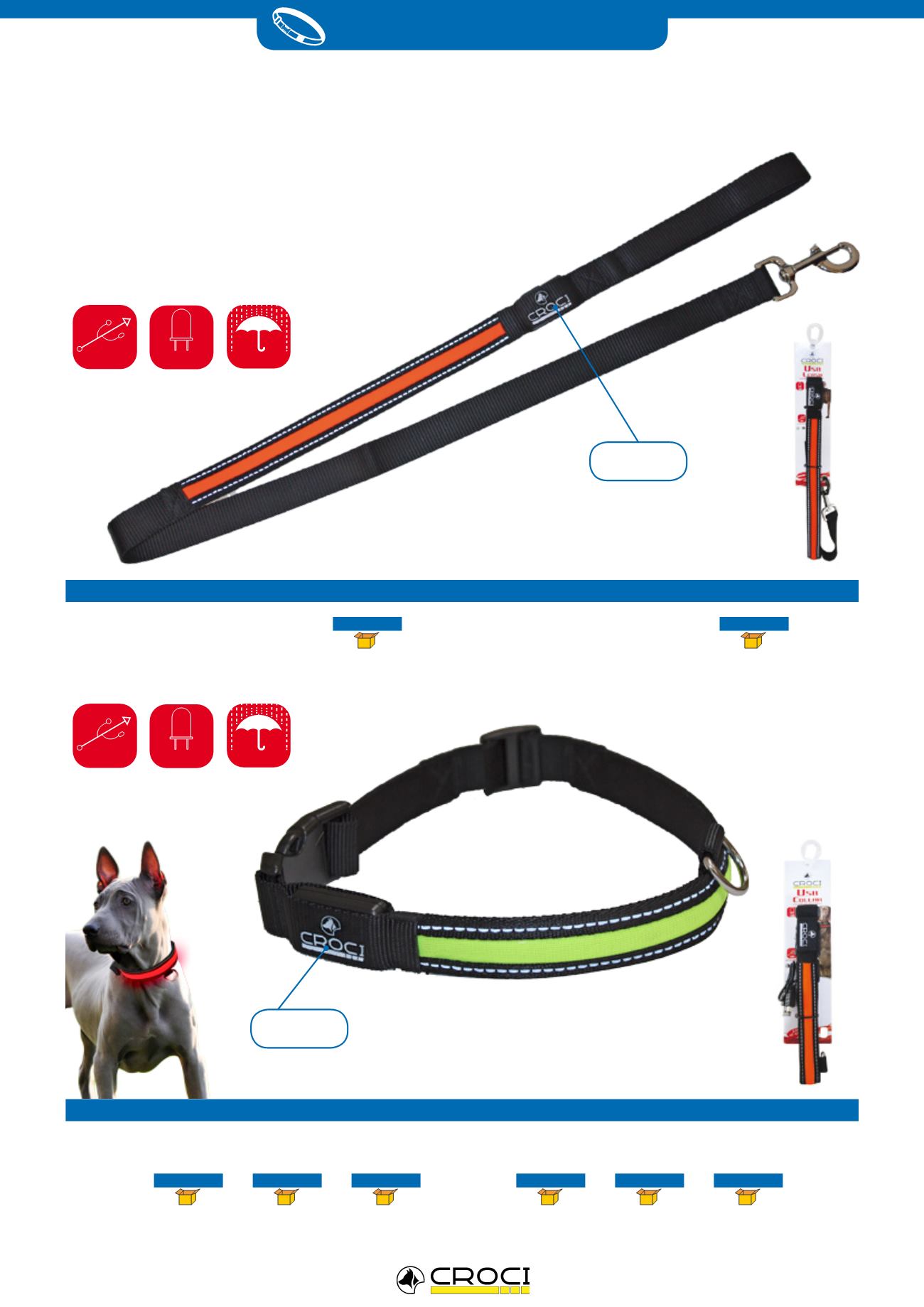 COLLARE REFLECTOR LED -
HALSBANDER REFLECTOR -
COLLAR REFLECTOR LED
(cm)
GUINZAGLIO REFLECTOR LED -
LEINE REFLECTOR -
LEASH REFLECTOR LED
(cm)
1
96
2,5x34-41
C5020125
8023222161252
1
96
2,5x120
C5020131
8023222161313
1
96
2,5x120
C5020132
8023222161320
1
96
2,5x34-41
C5020128
8023222161283
1
96
2,5x36-51
C5020126
8023222161269
1
96
2,5x36-51
C5020129
8023222161290
1
96
2,5x43-64
C5020127
8023222161276
1
96
2,5x43-64
C5020130
8023222161306
Giallo - Gelb - Yellow
Giallo - Gelb - Yellow
Arancio - Orange - Orange
Arancio - Orange - Orange
Collari e guinzagli per cani realizzati in resistente nylon e provvisti di fascia LED a 3 modalità luminose: continua,
lampeggio lento, lampeggio veloce. Accessori utili per la sicurezza del vostro animale durante le passeggiate serali
risultando ben visibili (fino a una distanza di 300 metri). Ricaricabili tramite l'apposito cavo USB contenuto nella
confezione.
Halsbänder und Leinen für Hunde aus strapazierfähigem Nylon und ausgestattet mit LED-Streifen mit drei
Leuchtvarianten : kontinuierlich, langsamer Blitz, schnelles Blinken. Nützliches Zubehör für die Sicherheit
Ihres Tieres während der Abend Wanderungen (bis zu einer Entfernung von 300 Metern).
Wiederaufladbar mittels USB Anschlusskabel, im Lieferumfang enthalten.
Collars and leashes for dogs made of durable nylon and equipped with LED strip with
3 lighting modes: continuous, slow flash, fast flash. Useful accessories for the
safety of your pet during evening walks (up to a distance of 300 meters).
Rechargeable with the USB cable included in the package.
ON / OFF
USB
usb recharge
USB
usb recharge
LED
LED
WATERPROOF
WATERPROOF
ON / OFF
LEINEN UND MAULKÖRBE -
LEASHES & MUZZLES
GUINZAGLIERIA & MUSERUOLE
12